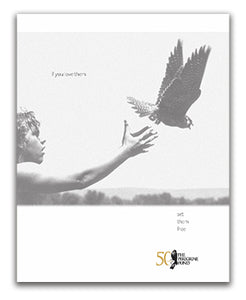 Our 50 Year Commemorative Report recounts how saving a single species on the brink of extinction led to a movement that has changed the future for
all
raptors. Breath-taking photos from our projects around the globe demonstrate The Peregrine Fund's unique balance of people, wildlife, habitat, and research — a story worth repeating for the next 50 years and beyond!
Large-format, soft cover book, 58 pages, 9.5 x 12 inches
If you are an active Peregrine Fund member, please select the member price option above - with any questions regarding membership, please email tpf@peregrinefund.org
If you would like to become a member and select the member price, join or renew today here!
Due to increased global shipping costs, only domestic orders are eligible for free shipping.