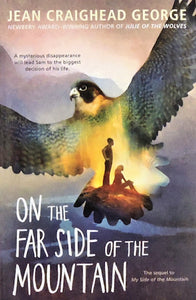 On the Far Side of the Mountain
The second of the trilogy, this incredible fictional children's novel written by Jean Craighead George is a great book for every cooped up, yearning for the wild, nature-loving child. Purchase yours today to help support The Peregrine Fund's mission to conserve birds of prey worldwide.
"Two years ago, Sam ran away from New York City to live in the Catskill Mountains. Now his younger sister Alice has joined him and is quietly living in a tree house of her own nearby. Their peaceful life is shattered when a conservation officer confiscates Sam's falcon, Frightful, and Alice suddenly vanishes. Sam leaves his home to search for Alice, hoping to find Frightful, too. But the trail to the far side of the mountain may lead Sam into great danger."

Paperback

170 pages, 5 x 7 3/4

B&w illustrations

Ages 8–12