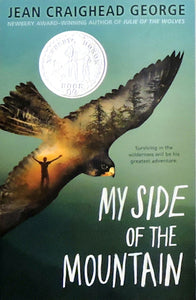 My Side of the Mountain: 
The Classic Story of Wilderness Survival
The first of the trilogy, this incredible fictional children's novel written by Jean Craighead George is a great book for every cooped up, yearning for the wild, nature-loving child. A story of a kid, his falcon, and the mountain. Purchase yours today to help support The Peregrine Fund's mission to conserve birds of prey worldwide.
"Sam Gribley is terribly unhappy living in New York City with his family, so he runs away to the Catskill Mountains to live in the woods—all by himself. With only a penknife, a ball of cord, forty dollars, and some flint and steel, he intends to survive on his own. Sam learns about courage, danger, and independence during his year in the wilderness, a year that changes his life forever."

Paperback

178 pages, 5 x 7 3/4

B&w illustrations

Ages 8–12